Welcome to Encalm Privé
Where luxury and travel unite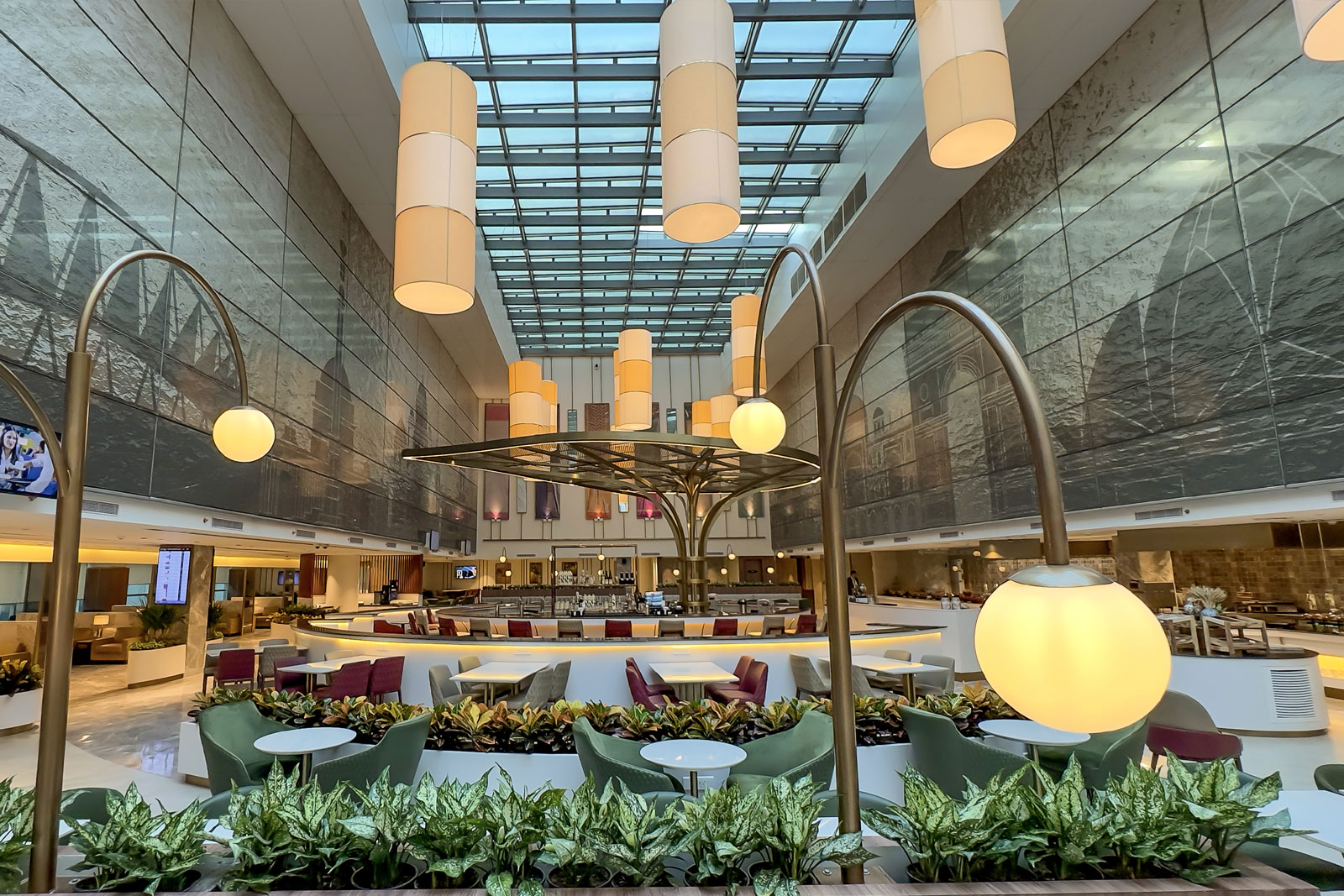 "The best and most beautiful things in the world cannot be seen or even touched – they must be felt with the heart."
In a world where the best and most beautiful things remain hidden from the naked eye, Encalm Privé emerges as a captivating sensory journey. Beyond mere appearances, this luxurious airport lounge invites you to feel its essence with the heart. At Encalm Privé, time slows down, and you are invited to savour life's precious moments, relishing the finer details that often elude us amidst the rush of modern living.
A spacious sanctuary of elegance:
Nestled within the bustling terminals, Encalm Privé stands as a beacon of sophistication and opulence, offering a haven of tranquillity for discerning travellers and connoisseurs of lavish living. Spanning an impressive 30,000 sq. ft., this airport business lounge redefines the essence of a luxury airport experience like never before. The carefully designed spaces reflect a harmonious fusion of contemporary aesthetics and timeless elegance, exuding sophistication and refinement in every inch.
Gourmet food extravaganza
Food connoisseurs will find themselves captivated by Encalm Privé's culinary offerings. Expert chefs curate a symphony of global flavours, ensuring an unforgettable dining experience that perfectly complements your journey.
A fusion of technology and luxury
As you enter, you will meet Temi, the graceful robotic assistant, gliding around the lounge to assist travellers with their needs and inquiries, reflecting the seamless blend of luxury and technology. Furthermore, this luxury business class lounge boasts a state-of-the-art business centre, ensuring productivity and efficiency for business class travellers.
Your wellness matters
At Encalm Privé, luxury seamlessly intertwines with wellness, creating a space dedicated to revitalizing both your body and mind. Some of our upcoming services include an expansive spa, a fitness centre and wellness centre. So, whether you seek indulgence through a massage therapy, wish to partake in a fulfilling workout, or savour the goodness of a wholesome and healthy meal, we have all your desires covered!
Lounge within a Lounge
For the epitome of exclusivity, Encalm Privé presents the ingenious "Lounge Within a Lounge" concept. This private enclave caters to those seeking the utmost privacy and personalised service.
Here at Encalm Privé, the pursuit of excellence is woven into the very fabric of the experience. From the attentive staff who anticipate your needs with a gracious smile to the innovative technology that elevates convenience, Encalm Privé leaves no stone unturned to craft a seamless journey of delightful luxury.
In this sanctuary of indulgence, you rediscover the joy of travel, where the journey becomes as enchanting as the destination itself. Encalm Privé sets a new benchmark, reminding us that the best of services can elevate every facet of our lives, even in the transient world of travel.