UPGRADE YOUR TRAVEL STYLE: 5 WAYS THE ENCALM LOUNGE ADDS MAGIC TO YOUR JOURNEY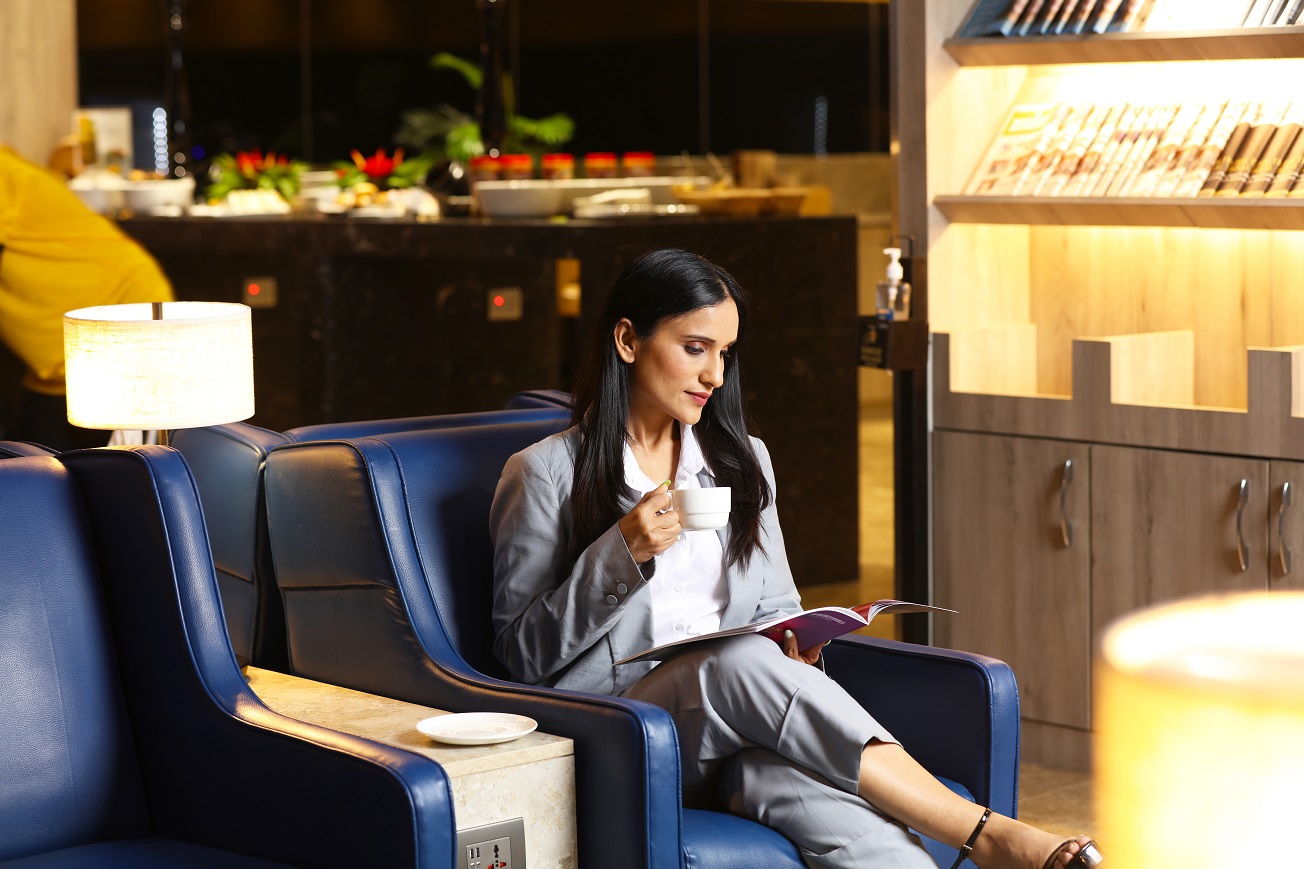 Whether you're looking for a relaxing place to kick-back and unwind or simply somewhere to reflect on the beauty of life — Encalm Lounge has it all. This airport lounge offers an oasis at one of the busiest airports in the world, Delhi Airport. Designed by experts keeping the airport traveler in mind, Encalm lounge gives you space and solitude and a chance to choose your own experience.
Before you take off on your next journey, here are a few things you can do to make the most of your experience at this airport lounge.
Bar service: Fancy a drink? The Encalm Lounge not only has a stellar bar, but it's open 24/7! Offering a range of drinks - from classic cocktails and mocktails to keep the party going to hot coffee and tea that warms your soul – the bar menu has beverages to suit all your moods! So, if a chilled beer is what you need to calm your nerves before flying – you know where to go!
Food service: Good food for a good mood! From refreshing salads to hot curries and breads and mouthwatering desserts... it's enough to make you forget that you're at the airport! Go ahead and indulge in your travels with a wide selection of delicacies at the Encalm Lounge.
Lounge bay: Need a breather before jetting off again? The Encalm Lounge is designed to provide travelers with a refuge from the hustle and bustle of the airport. Whether you need an escape from the chaos of the airport or just want to enjoy some quiet time, the airport lounge by Encalm has created a comfortable space with multiple cozy spots that can provide you with just that.
Wi-Fi service: Can't imagine being offline and disconnected from the world? The complimentary Wi-Fi at Encalm lounge ensures that it's business as usual for business travelers, allowing them to catch up on meetings and calls in transit. You can charge your devices as well so you're well prepared for the next leg of your journey and can work on the go!
Meet and Assist Service: Want to take your journey a notch higher? The premium airport assistance service, Atithya, by Encalm is the perfect way to do it! With a range of services available like baggage assistance, buggy service and wheelchair assistance, you'll be sure to feel like royalty!
Your travels will bring you many different adventures, but the airport lounge by Encalm is the perfect place to refuel. Give this place a try on your next journey from Delhi Airport and follow along our list to make the best of your airport experience!